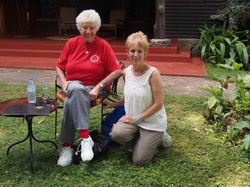 Mama Kuku, translated from Swahili, is Mother Chicken. Her given name is Faye Cran. She spent her early youth in England and traveled with her parents to Africa as a young girl. Her grown siblings did not follow on this lifelong adventure. The UK had taken away Faye's father's farm where he raised prized cows and when queried 'where should we go?' He said, "South China Sea Islands". So, they headed SOUTH and ended up in Kigali, Rwanda. After a night in an uncomfortable lodge, they moved to another hotel but her father retraced his steps to the original hotel with bar. When asked why he had left that hotel, he responded, that it was poorly kept and that he could run it better, so the hotelier sold it to him on the spot. Fortunately, someone else approached her dad and bought it from him the following week!

The family finally established a farm at the base of Kilimanjaro. Faye decided to raise chickens as a young teenager and started out with 20 chicks. She tried her hand successfully at raising broiler chickens and then white turkeys that were especially popular around the holidays. Today she raises only chicks...16,000 to be exact. They produce 120,000 chicks a week that she sells in boxes of 100. Kibo Poultry is a thriving business that sells day old chicks broilers, day old chicks layers, day old chicks vijogoo from Arusha to Dar Es Salaam.

Mama Kuku is a savvy, kind-hearted, energetic, generous woman who has hosted me (and Tom) at her home perched on the top of Lake Duluti near Mount Meru. The large masonry home with thick thatched roofing is decorated with photos, awards and family memorabilia. Remnants of the colonial period are displayed as elephant foot coffee tables and lion and zebra skin draped walls. An old small tv nested in among books projects evening soccer matches for her assistant Wilson. A laptop, calculator and piles of organized papers on a nearby table are a testament to her commitment to help people UP in need. As I updated my journal she was furiously compiling multiple project grants through Rotary International and conferring with upcoming humanitarian visitors. Luckily, she did take a break to go looking for goats for the shed at the orphans home....just the right goats with healthy udders and the promise of more offspring. More about the goat search later.